Fadini STRABUC 918 Electro-hydraulic rising bollard with yellow sleeve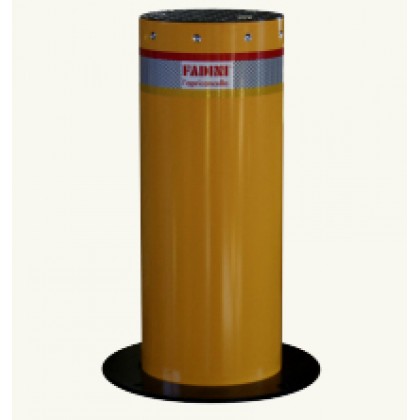 STRABUC 918 Electro-hydraulic rising bollard with yellow sleeve & built-in flashing LEDs for keeping traffic away from sensitive areas
Single Phase Supply
- The Strabuc 918 is a hydraulically operated post of 275mm diameter designed to protect premises and for use in traffic control in both commercial and industrial sites. A feature of this bollard is the built-in flashing LEDs which acts as a warning while the post is in operation. The bollard comes as a two-piece assembly and needs only to be sunk into the ground and cabled back to the control board which is fed with a 240V 10A electrical supply. No hydraulic pipe connections are required.
- One or more bollards can be installed and operated together or individually. Each bollard is supplied with 10m of cable.
- Vehicle safety can be provided from vehicle sensing loops located either side of the post.
- The Strabuc 918 can be operated from a wide range of controls such as remote control, card or token readers and vehicle sensing loops.
Technical
Diameter of Cylinder
275mm
Input Voltage
230Vac
Motor Voltage
230Vac
Opening Time
6sec
Rising Height
700mm
Thickness Of Bollards
4mm