Nice Hyppo 7100 24Vdc motor for 2-leaf folding doors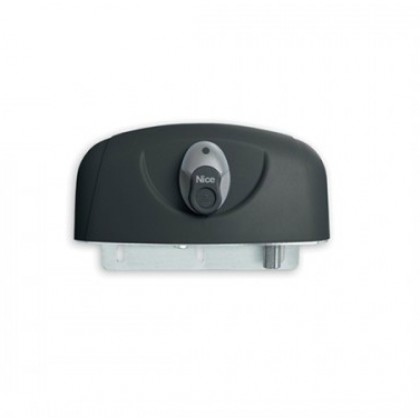 Perfect for intensive use. HY7124 motor with magnetic encoder.
Single model for right and left leaves.
Pre-wired, incorporated double limit-switch both during opening and closing: fewer connections mean quicker installation (for HY7100 only).
Solid metal mechanics.
Telescopic arm, galvanised and painted.
Recommended control units: Mindy A3, A3F, A6, A6F, A60, A700F; for HY7124 Moonclever MC824H.
24Vdc version with magnetic encoder. Perfect for intensive use, compatible with the control unit Moonclever MC824H, equipped with BlueBUS, and provision
for operation with the systems Solemyo and Opera:
• simple programming, by means of a single key;
• self-learning of opening and closing limit positions;
• automatic fault diagnostics;
• programming of pause time;
• pedestrian pass door;
• deceleration on opening and closing;
• obstacle detection with dual technology;
• operation in event of power failure by means of optional rechargeable batteries (PS324);
• provision for connection of latest generation resistive sensitive edges.
Technical
BlueBus
Yes
IP Rating
20
Motor Voltage
24Vdc
Solar Power Option
Yes
Speed
2