MEMFast RNHT48/410 hand tool set for installing open end rivet nuts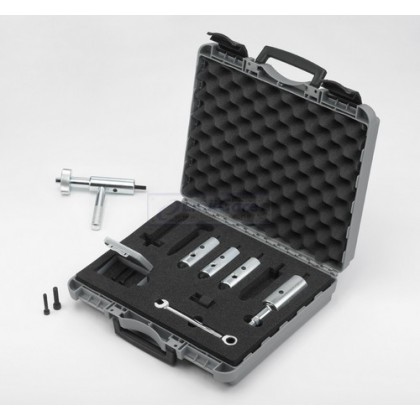 Works on steel, A2 stainless steel*, aluminium & brass and is ideal for installing aluminium gates with accessories such as rack for sliding gates
This "spin" action tool (different from the conventional hand plier) is compact & versatile.
Suitably contained in a durable polypropylene case measuring 32cm x 23cm x 8cm, it only takes seconds to assemble (instructions included).
Some of the many benefits include:
Patented design & UK manufacture.
Standard grade 12.9 socket head cap screws as mandrels with spares supplied with tool.
Worn or broken mandrels replaced in seconds.
Case hardened components to ensure durability.
10mm ratchet spanner included to assist installing larger sizes.
Metric/Unified Inch conversion kits available
Rivet Stud conversion kits available
Ease of use in applications having limited access - simply turn the knob until correct installation has been achieved.
Perfect for use in aluminium gate installation, small sheet metal workshops, kit car assembly / coach building or for the hobbyist.
No stroke setting or tool adjustment is needed for differing material thicknesses as the tool has infinite adjustment (ideal for materials of inconsistent thicknesses such as GRP & fibreglass)
Spare mandrels are included with a 10mm ratchet spanner to assist in larger sizes.
The brochure download below marked as 'Sales Manual' actually shows mandrel replacement.