Life OPTIMO OP3 230Vac double ram kit for swing gates up to 3m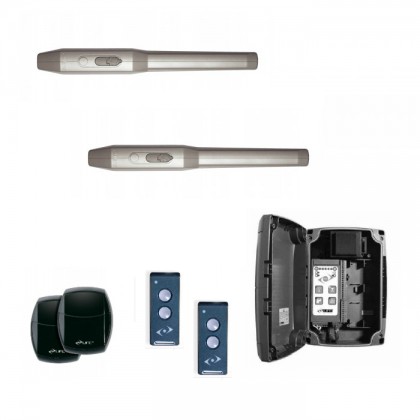 Life OPTIMO OP3 UNI DL S 230Vac ram kit for swing gates up to 3m

The Kit Contains
2 X OP3 UNI DL S 230Vac ram gate motors>1 X GE UNI RS DL control unit with integrated receiver1 pair of VISIO external photocells2 X DREAM 2 button 433.92Mhz rolling code transmitter
Automation for swing gates
The Optimo range of linear screw motors offers the choice of 230V and 24V versions, with a slow or fast operation.
Optimo uses an optical "encoder", electronic control unit and limit switches.
The release mechanism is protected from contamination and has been designed for quick and simple operation if required.
The Optimo gear motor is already equipped with a power cable and a signalling cable, both one meter long, to make electrical connections simpler and quicker: Moreover, it also comes with an internal cabling system which makes maintenance simple. Bolt on brackets are included and mounting instructions are clear and simple.
Technical
IP Rating
54
Max Gate Leaf Length
3m
Motor Voltage
230Vac
Work Cycle
35%