EMX Ultra II D-TEK Plug In Style Vehicle Loop Detector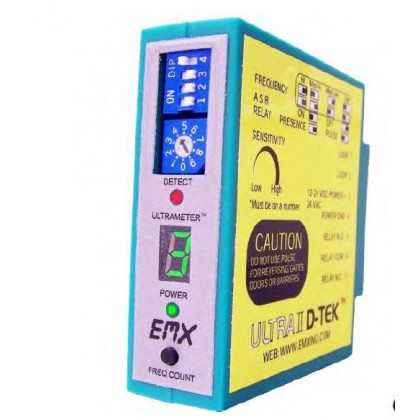 Compact design
Energy efficient
Easy to install and setup
Reliable
Cost effective
The Ultra II D-TEK Vehicle Loop Detector delivers plug-in compatibility all operator controls that require a dry contact relay input.
It can be used in the Center, Safety and Exit slots on the operator control board.
Sensitivity selection is simplified by the ULTRAMETER™ display that indicates the appropriate sensitivity setting to detect the vehicle positioned on the loop.
The 10 sensitivity settings allow for finer adjustment of the detection level, while the 4 frequency settings provide greater flexibility in preventing crosstalk in multi-loop applications.
Features:
ULTRAMETER™ (displays optimum sensitivity setting / diagnostic aid)
Frequency count/reset switch 10 sensitivity settings
Loop diagnostics 4 operating frequencies
Lightning and surge protection
Frequency counter
Fail safe
CE compliant
Transmitters
Number Of Channels
1
Technical
Input Voltage
12-30Vdc or 24Vac