AES 603-AS digital wireless audio intercom system in stainless steel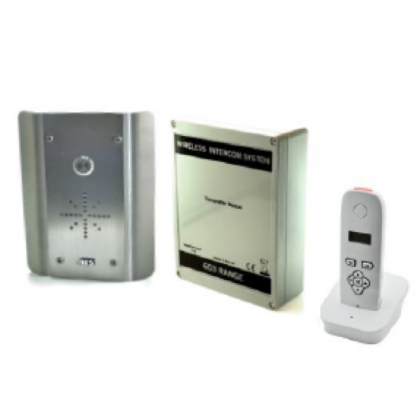 Stylish curved architectural model
Contemporary cool-white back lighting.
100% BS316 marine grade stainless steel construction.
Kit includes speech panel, transmitter module, power supply, 3 metres screened CAT5 cable, handset, charging base and charger.
 Working range of 200 metres (up to 400 metres open field conditions).

 Up to 4 handsets per system.

 NEW for 2015 – soon available with 2 relays!

 Simple setup and install.

 Keypad option for coded access.

 Marine grade stainless steel constructed panels with toughened gloss acrylic trim.

 Built in voicemail feature for missed callers, user can listen to messages on handset.

 Make internal calls between handsets.

 2 year manufacturers warranty.
Technical
Power Supply
12Vdc