Daitem GMT-RC01 single output GSM switch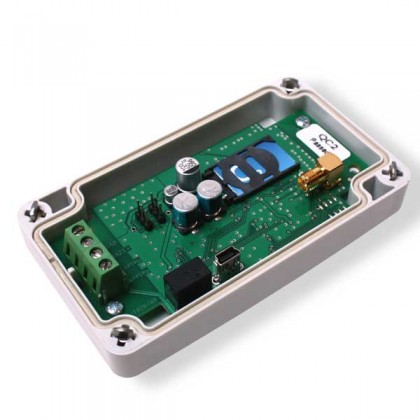 A simple telephone call (or text message) can remotely switch an electrical device on or off and also open or close a gate or door - and that call is free. Any call from an authorised user's number is recognised by the GMT-RC01 Switch causing it to promptly drop the call and carry out its selected action. It can, if required, send a confirmation signal that the command has been received and actioned. Daitem's new range of GSM products can be operated from almost anywhere in the world by making a no charge call from an authorised number stored in its memory.
Main Features
Single relay output Relay
operating time function (programmable)
GSM Signal strength indication
5 Administrators
200 Users
Free Programming Software for PC
Can also be Programmed by SMS
Model GMT-RC01EX is available with SMA type connector for external antenna
Dimensions: 90 x 110 x 40mm
CE marked
ROHS compliant
IP65 enclosure
2 year warranty
Total control from virtually anywhere with the GSM Remote Control GMT-RC01 Switch
The GMT-RC01 is the first product in Daitem's new range of GSM access control. It's single output relay can be used for operating automatic gates, barriers and doors or resetting virtually any electrical device from almost any phone anywhere in the world.
This GSM remote switching device allows easy programming via an intuitive PC-based software plus USB connector cable to plug in to a laptop or PC. Remote programming can be carried out if required using SMS messaging.
Providing a basic - normally open - relay remote switching device, it is supplied in a rugged sealed IP66 enclosure and is available in 2 models.
GMT-RC01
The GMT-RC01 is supplied with an internal antenna, programming cable for PC connection and a CD-ROM
GMT-RC01EX
GMT-RC01EX is supplied with a cabled self-adhesive antenna with an SMA connector for flexible mounting in more complex or difficult applications. Other antenna options are available.
This device has a standard SIM card socket allowing the installer or user to select the best service provider for the location where it is to be installed.
There are unending uses and possibilities for this product, if you just need to simply turn something on/off or open and close remotely over the GSM network then this product is for you.